I thought I'd throw a little something up here because I haven't past through here in over a month.
R.I.P
Jimmy "The Rev" Sullivan
February 10, 1981 – December 28, 2009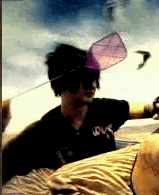 Never again will he twirl a drumstick like the badass he is. Never again will he be laying down some sick rhythms on one of A7X's songs. Never again will he act a fool and crack me up.
And while I didn't know him as a friend I did know as a fan through his music. It upsets me to know that I didn't even get to see him alive in concert doing what he loved and kicked ass at it.
He will be very missed...
XoxoX, Jenn♥